Big Data and EHR Meaningful Use
Unless you're working in some aspect of U.S. health care, chances are good that any use of the expression "meaningful use" is an oxymoron. Yet "meaningful use" will likely impact many beyond those who recognize its meaning today.
What "Meaningful Use" Means
"Meaningful Use" is an incentive program managed by the Center for Medicare and Medicaid Services (CMS). The incentives are financial. The economic stimulus finding was part of the recession-era American Recovery and Reinvestment Act (2009). CMS pays providers if they can demonstrate they have achieved specific results. With approved EHRs, eligible providers include both professionals and hospitals.
In order to receive these taxpayer-funded payments, providers must do more than simply choose a willing supplier, roll out the EHR of their choice and declare victory. Meaningful Use is broken into three stages, and specific objectives must be achieved at each stage to demonstrate compliance. The objectives are nontrivial, and there is no doubt that Meaningful Use is already making healthcare's Big Data bigger.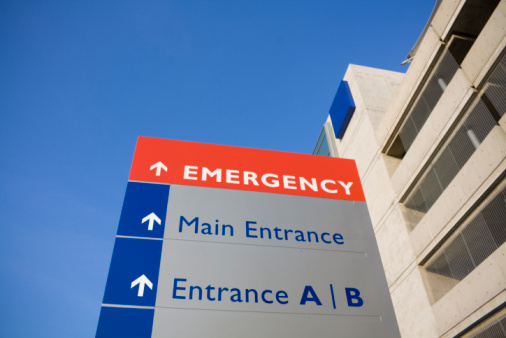 Data Accelerants, Data Retardants
The firehose of data associated with Meaningful Use can be directly attributed to CMS objectives. At Stage 1, payout recipients had to meet 19 of 24 measurable goals covering areas such as electronic checking for drug interactions and supporting clinical decision-making. Patient EHR maintenance must include demographics, an active medication list, allergies, vitals and smoking status. Hospitals receive incentives when they provide electronic discharge records and electronic copies of health information. CMS also mandates a security risk analysis. A key component for providers and institutions is a set of clinical quality measures.
Those who met CMS objectives have likely already begun to work toward Stage 2 objectives. In stage 2, patient vitals are to be electronically collected and "charted." This information, "recorded as structured data," is to include height, weight, blood pressure, body mass index. Growth charts are required for young adults from 0-20 years. Significantly, electronic ("online") availability of patient information is also suggested:
Provide patients the ability to view online, download and transmit their health information within four business days of the information being available to the eligible provider.
Perhaps the most important of Meaningful Use requirements are its recommended "core quality measures," one for adults and one for children. Each core quality measure can touch multiple data provider sources. For example, measuring "use of appropriate medications for asthma" and "closing the referral loop" involve crossing traditional discipline-specific data silos. Lagging vendor Stage 2 certifications reflect this increased complexity. A Modern Healthcare study in September 2013 found only 79 software vendors certified for use under Stage 2, while there were 988 developers certified for Stage 1. 
The program is not without its critics, who worry about the timetable , taxonomy and practicality.
What About Stage 3?
Stage 3 has been delayed until 2017, which will guarantee that when implemented, its impact on healthcare Big Data will be even greater due to the acceleration of EHR and other healthcare automation in the interim.
Taking MU's Pulse
Nearly five years out, the commitment at CMS remains strong. The new National Coordinator for Health IT Karen DeSalvo worked first hand at converting hospital records to EHRs in Louisiana after Hurricane Katrina. Dr. DeSalvo affirmed her belief in EHR in her first week in office. "There is great promise in health information technology to be in the leading mix of delivery reform for this country," the ONC leader said.
Not all the impacts will be positive. For instance, when Sutter Health's Epic EHR system experienced a software glitch, the outage lasted for nearly a day, inconveniencing patients and exacerbating relations with the local Nurses Union, which opposed some aspects of the implementation. Verification ("Veracity" in Big Data circles) of quality metrics could turn up errors not yet visible to analysts. Government auditors may yet learn of program abuses or security lapses surrounding HIPAA or attestation compliance.
Meaningful Cost
The mandate – or incentive, depending on how it is viewed – can involve considerable expense. The CIO at Beth Israel Deaconess Medical Center estimated his institution would spend $2M on meaningful use initiatives in 2013 alone. Press reports about the Sutter Health outage referred to the Epic implementation as a $1B project.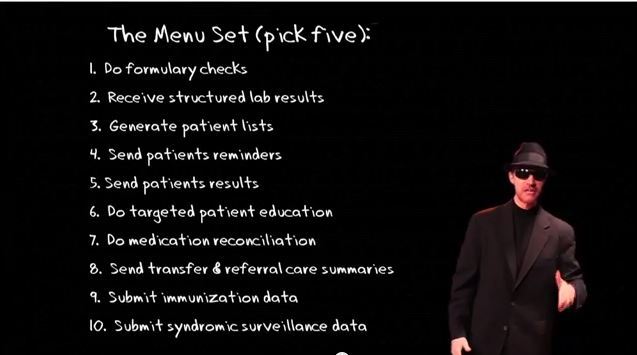 From Ross Martin MD's Meaningful Use Rap Video
Take-home Big Data
You may be wondering, "What about my Doctor?" The CMS provides a spreadsheet, updated monthly, of every provider which is currently certified by CMS. The list identifies which EHR application was certified and the provider's location. Once you've moved all your records to a Patient Health Record – an EHR that you control, such as Microsoft's HealthVault – you'll be ready for the next step: using an ETL tool like Syncsort's IronCluster on Amazon AWS to extract, transform and load the data into a family home Hive/Hadoop health repository. Combine that with data from fitness software and health games. From there, the next step will be to download the latest copy of R, which you can use to predict your own or a family member's next major medical event.
That is certainly meaningful – assuming proper use has been made of the big data you have collected.
Mark Underwood writes about knowledge engineering, Big Data security and privacy. Twitter @knowlengr LinkedIn