Actually, It's More than Actuarials: Big Data for Insurance
Are you the sort who chronically forgets to lock your doors, exceeds the speed limit, fails to change your smoke alarm batteries, leaves your FitBit idle and skips your annual physical? In the past, you could tempt fate, and if you're lucky, no one would be the wiser (except perhaps your spouse).
Screenshot of the Allstate Insurance "Drivewise" Portal
In the Big Data world that's coming, you might not be so lucky. Instead you receive a polite email one day notifying you of a rate increase in your home, vehicle, health or life insurance – or all four. Those devices providing smart home, smart car and smart health amenities could serve an important purpose for insurers.
Think about the roles most associated with insurance. Two that probably come to mind are insurance sales and actuary. Indeed, these two roles are those likely to benefit the most from Big Data, even if insurance adoption of Big Data practices lags other industries. And many actuaries already possess the skills needed for predictive analytics: they've been doing predictive analytics all along.
U.S. actuaries are vetted by a series of examinations administered by professional societies, such as the Society of Actuaries, American Society of Pension Actuaries and the Casualty Actuarial Society. The Big Data buzz is hardly absent in these groups.
Big Data sources for insurance fall into traditional and non-traditional. A recent report in The Actuary Magazine listed these traditional "Big Data" sources: insurance applications, medical examination and lab tests, data from the Medical Information Bureau, prescription drug usage, motor vehicle records and the Social Security Death Index master file.
The report suggests that insurers are comparatively late adopters of Big Data for a variety of reasons. The most compelling of these may be regulatory concerns. Yet its possible use for risk — segmenting applicants into risk categories through predictive analytics – and fraud detection are hardly visionary. Another possible reason: actuaries may be more likely to see Big Data as increment change.
United Healthcare is one of the insurance Big Data leaders cited in a 2013 study of Big Data Big Company leaders sponsored by SAS. United Healthcare is already using Hadoop for the first stage of processing for unstructured natural language data, but it is also able to use other statistical tools with Hadoop.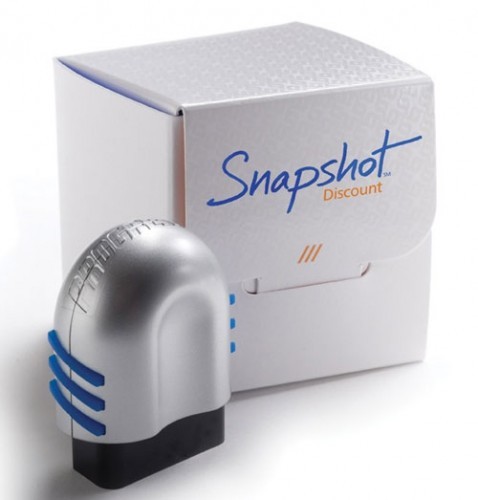 The Progressive Insurance Snapshot Device Has 1M Adopters
Progressive Insurance was an early user of consumer data, which it used to reinvigorate its business after revenue and sales had plateaued in 2006. Progressive's "Snapshot" is an onboard device which gives insured vehicle owners an incentive to share additional data with their insurer. Snapshot, reportedly used by as many as a million drivers, was really a foretaste of how insurance could become a beneficiary of smart devices in a coming Big Data tsunami: the Internet of Things.
Allstate has a similar program called "Drivewise." Snapshot and Drivewise provide insurers with other opportunities. In a happy confluence of marketing and actuary data streams, Allstate's Drivewise landing page invites Drivewise enrollees to log in and manage their Drivewise accounts – thus providing an unprecedented, potentially interactive touchpoint for customers. It's a touchpoint that itself adds to the Big Data stream about customers.
Smart devices are just one data source being explored for insurance. Cigna's Director of IT Strategy and Innovation Willis Gee told MobiHealthNews, "It is about meeting customers where they are. . . We are starting to see the intersection between mobile, gamification – which is becoming an increasingly interesting area for us – social media, and big data." In other words, one day, perhaps even the way you play a computer game will influence what you pay for insurance.
Want to think bigger? Today The Climate Corporation uses Hadoop and other Big Data tools to create hyper-local insurance that works for farmers struggling against the increased weather volatility caused by climate change.
And real time Big Data could allow for more frequent re-ratings, with different rates provided for different scenarios – say, driving on a rural freeway vs. driving on an accident-prone two-lane road in a crowded urban environment at rush hour.
At Syncsort.com
Read how a major insurance carrier used Teradata and Syncsort DMX to speed data integration processing tasks.