If Buildings Could Talk: Dangerous Liaisons with Big Data
In Dashiell Hammett's The Maltese Falcon, crisp writing brings to life the St. Mark Hotel, Sam Spade's meal of chops, baked potato and sliced tomatoes at John's Grill, and the Ferry Building where the ship's captain is killed. Hammett himself is memorialized in San Francisco's Flood Building, where he worked as a gumshoe for Pinkerton's Detective Agency.
But soon buildings will not need gifted fiction writers to give them voice. They'll be doing their own talking.
A growing smart building movement is set to rejuvenate mature technologies, such as multi-agent systems, middleware, message bus services, X10 (a standard dating from 1975) and ZigBee. Since buildings account for 40% of urban energy bills, it should be no surprise that many efforts center on energy management. But sustainability considerations, focus of the Leadership in Energy and Environment Design (LEED) building certification, are only one aspect of smart buildings.
Google's recent acquisition of Nest, a maker of home sensor technologies for $3.2B, attests to the commercial potential of smart buildings. In other words, every urban structure is potentially smart.
Offsetting this optimistic outflow of cash is a more nuanced view, such as the one offered by A. Tomer and R. Puentes in a 2014 Wired opinion piece. They caution that policies which do not recognize the digital divide – favoring buildings with reliable broadband access – could encounter resistance, or produce spotty results across neighborhoods. City technology leadership is needed to coordinate procurement, identify standards and recognize allied projects. They worry that "a smart city is whatever each company happens to be selling."
Numerous smart building concepts are being explored:
Buildings that talk to each other and can dynamically share resources
Building security will be connected to other Internet of Things (IoT) data sources, such as surveillance cameras, timecards, door and gate controls
Buildings integrate information flows from smart appliances, including HVAC, washing machines (Maytag and Whirlpool already offer feeds), solar panels and air purifiers
Buildings will become "aware" of human-managed events such as large scale meetings and support time-based reconfiguration, traffic optimization, capacity management and interface with ticketing systems
Buildings that integrate with mobile apps – for directions, building management, evacuation
Integrated property management software can generate BTU/hour tenant invoices for HVAC usage
Products like Freewave's wireless machine-to-machine platform could allow for building-block assembly of previously disconnected building assets
Building assistance with traffic rerouting during maintenance periods, and with emergency evacuation
Smart buildings with proven safety or security experience might one day qualify for reduced insurance
Smart buildings could improve resilience by providing police, fire and forensics investigators with on-demand blueprints, roof access, chemical storage areas, entrances and building materials and composition
Connections from intelligent buildings could be made to larger SCADA networks through PLCs and predictive analytics hosted by building owners or regional consortia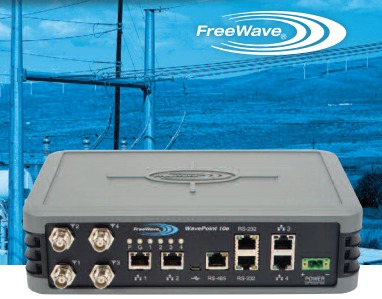 A Freewave Machine-to-Machine Device
Consensus Building
Standards organizations, including IPSO Alliance, ISO JTC1 SWG 5, IETF, and Europe's ETSI are at working building consensus around interoperability, testing and security. Commercial IoT providers like LogMeIn's Xively, Exosite, AptObject, Cumulocity, Luxoft/Radius, Arrayent, Cisco, Intel and others seek to develop niche markets using their own platforms. Not to be left out of the party, Microsoft's CEO Satya Nadella recently claimed that the upcoming Windows 10 release will have a central role in the Internet of Things, according to one report, "integral in managing every aspect of the IoT, from the sensors, mechanical systems, to the applications and analytics that underlie it."
Preparing data centers for the coming onslaught of tireless messages from smart buildings is a major undertaking. Syncsort tools can accelerating this process. As with Ironstream, the recently announced Syncsort product designed to ingest mainframe log data from Splunk , keeping up with machine chatter will require more than a casual quip.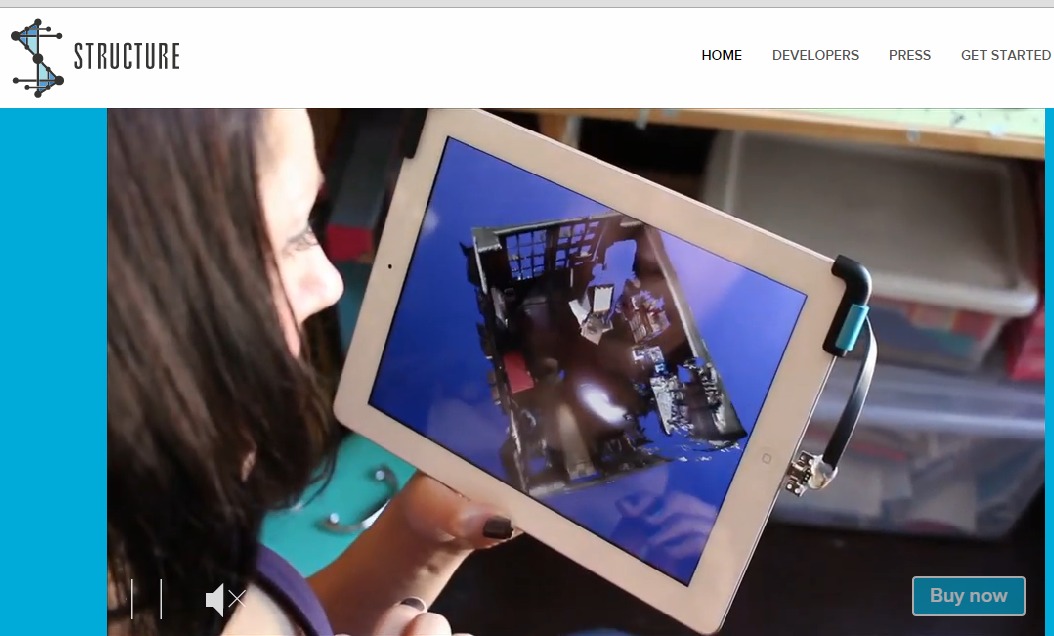 A depth-sensing Structure.io product can build 3D models of building interiors using a tablet computer
Studfinder Smarts
Some existing systems already communicate with each other using methods like the Common Alerting Protocol. (What a time Dashiell Hammett would have had wrangling with that lifeless dialog.)
But the next time you wield a hammer to hang your flat screen TV, don't be surprised if your smartphone responds:
"BEEP! Warning: Move at least 3 inches to your left. BEEP! Warning: There is a network bundle installed in this wall 6 inches to the left of your strike point. The network administrator has been notified of your action, and an entry has been posted to your personnel record."

References
B. Kim and O. Lavrova, "Optimal power flow and energy-sharing among multi-agent smart buildings in the smart grid," in Energytech, 2013 IEEE, May 2013, pp. 1-5. [Online]. Available: http://dx.doi.org/10.1109/EnergyTech.2013.6645336
L. Romualdo Suzuki, K. Brown, S. Pipes, and J. Ibbotson, "Smart building management through augmented reality," in Pervasive Computing and Communications Workshops (PERCOM Workshops), 2014 IEEE International Conference on, Mar. 2014, pp. 105-110. [Online]. Available: http://dx.doi.org/10.1109/PerComW.2014.6815174
J. Figueiredo and J. S. da Costa, "A SCADA system for energy management in intelligent buildings," Energy and Buildings, vol. 49, no. 0, pp. 85-98, 2012.