Business Continuity vs. Disaster Recovery: What's the Difference?
Think of business continuity and disaster recovery as two sides of the same coin. Both help businesses get back to full speed after a disruption, but each uses different methods for different purposes.
Preparing for disruption is important because the likelihood is high. Business continuity and disaster recovery are often associated with cyber attacks, a problem that half of all businesses fall victim to. They are also important safeguards against accidental IT problems, building maintenance issues, natural disasters, and power outages. Together, business continuity and disaster recovery help organizations survive the most common and consequential threats they face.
Understanding how the two strategies compare and contrast is important for using both to the fullest. This rundown highlights the key differences:
Purpose
The purpose of business continuity is to preserve the continuity of service after a disruptive event. For instance, if there was a fire in the office or a virus that wiped out the servers, the company could continue to supply products and services in a full (or at least limited) capacity. Business continuity strives to maximize service delivery following the worst possible disruptions.
The purpose of disaster recovery is to restore access to technological assets like data and applications. Business grinds to a halt without IT, and it may be impossible for businesses to recover if critical data is lost permanently. Data recovery aims to restore as much as possible in the minimum amount of time.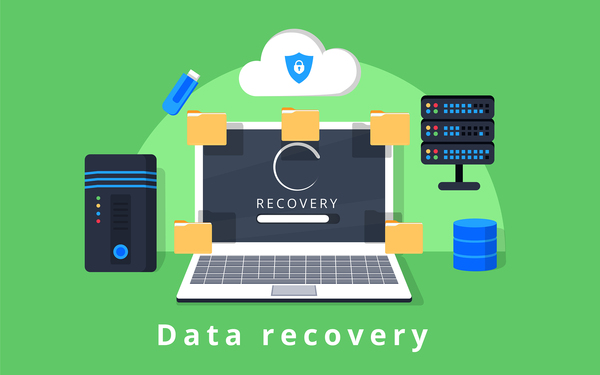 Priorities
Disaster recovery is considered a subset of business continuity. The goal after any disruption is to minimize the damage, which is what business continuity is meant to do. As part of that effort, a business must be able to recover the data. However, the first and overarching priority will be to continue to serve clients/customers in order to keep revenue coming in.
It's important to point out that business continuity is a lot more common than disaster recovery. Minor problems can interrupt a business without putting any IT at risk. Businesses must be able to take these regular disturbances in stride while also being protected from more rare and risky kinds of problems. Disaster recovery is typically one section within a much broader business continuity plan.
Practices
The specifics of business continuity and disaster recovery are unique to every disruption, but some practices are common. Business continuity, for instance, will try to ensure alternate suppliers are available in case the primary one becomes unavailable for any reason. Or that there is alternate office space to work from if the sprinklers go off in the head office.
Disaster recovery tries first to limit how much data can be lost by putting redundant and fail-over systems in place. Then, when something does happen, it works to systematically restore data and other IT assets from backups.
Here's another way to think about these important security strategies: Disaster recovery keeps you from falling, and business continuity keeps you from stumbling in the first place. You need both to keep moving forward.
Learn more about the latest in high availability in our on-demand webcast.