Expert Interview: John Hargrave on Big Data and Blockchain
There are some things that are just better together – the song "Love and Marriage," made popular by Frank Sinatra comes to mind. However, there's one combination that might not be immediately obvious: Big Data and blockchain. As blockchain becomes a fixture in the enterprise technology landscape, the importance of this relationship will only grow.
John Hargrave, author of the upcoming book Blockchain for Everyone (Simon and Schuster), sat down with Syncsort to discuss how blockchain works, its relationship with Big Data, and how companies can use it to increase effectiveness and efficiency. 
What Is Blockchain?
"Blockchain puts all transactions in a shared, decentralized ledger," Hargrave explained. The author compared a blockchain to a checkbook which no one owns, so everyone can balance it. Blockchains are distributed across many computers, so they don't belong to any one individual or corporation. 
What kinds of ledger transactions are entered into a blockchain? The sky is the limit, the author answered. Companies can keep track of money, inventory, and medical records. Hargrave cited the example of Walmart; the retail giant has collaborated with IBM to create a food safety blockchain in which its suppliers of green, leafy vegetables must upload information about their products by September 2019. Blockchain for food safety makes products traceable – consumers will be able to see every single party that has handled their kale, from the moment it was harvested to the time it arrived on the shelf.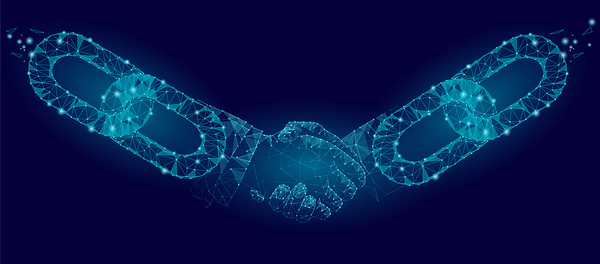 The Relationship Between Blockchain and Big Data
"Blockchain is data-oriented technology," Hargrave commented. Every transaction stored within blockchain is information that comes from some source. So, Big Data and blockchain are actually a natural fit.
That being said, you can't simply upload a Big Data set to a blockchain. You need an adapter of sorts. The adapter transforms the information's format into something decentralized, so that it can be entered into the virtual ledger.
What Are the Use Cases of Blockchain and Big Data?
Hargrave noted that there are some exciting use cases for blockchain and Big Data. The companies that are best poised to take advantage of these use cases are those who lead their industries. Hargrave cited the example of a consortium of petroleum producers who choose to upload Big Data about their supply chain to a blockchain ledger; that ledger would include information about where the petroleum was extracted, how it was transported to the refinery, which refinery processed it, and which gas station it was sent to. Before the blockchain, this data would have been stored in silos – now, it's accessible to everyone, making information easier to analyze and find ways to become more efficient.
A real-life example of an industry-consortium blockchain is Hyperledger, an open source collaborative effort to advance cross-industry blockchain technologies hosted by the Linux Foundation. Syncsort recently joined Hyperledger, in which it will leverage its data integration and data quality software and expertise to help support development of the shared technology resources while accelerating innovation through open source leadership and participation.
"Blockchain is still in its infancy – people don't fully understand blockchain"
Blockchain is still in its infancy, the author acknowledged. Hargrave compared blockchain to the internet, circa 1995; he recalls having to convince his parents that a computer was a worthwhile investment. Much like the internet in its early days, people don't fully understand blockchain or why they should use it. However, once it starts disrupting industries (Hargrave believes the first will be financial services, as blockchain enables the free flow of money overseas), blockchain will become indispensable to the enterprise.
The Syncsort Invent initiative for Blockchain is focused on developing use case-driven solutions for enterprises to leverage blockchains to augment or replace the transactional systems that run their business. If your organization faces Next Wave challenges with Blockchain, Syncsort invites you to partner with them to create use-case driven solutions that will have a great impact on your business.
Also, make sure to check out our eBook on 4 ways to measure data quality.