How to Close the Gaps in Your ServiceNow® Environment
If you're using ServiceNow® and you have IBM i or IBM z environments, you have a problem. ServiceNow can't automatically discover these legacy systems, which hold crucial data. You're left scrambling to find a cost-effective, efficient option that allows you to keep ServiceNow as well as your IBM i or IBM z environments.
Now, there's a solution to this problem. Syncsort Ironstream fills the gaps ServiceNow leaves behind. Read on to learn how Ironstream for ServiceNow lets you easily discover IBM i and IBM z environments so you have a complete view of your IT assets.
The Problem
To explain the problem, let's first delve into how ServiceNow works. ServiceNow is an information technology service management (ITSM) system that helps IT professionals gain greater visibility into their entire environment.
This ITSM solution utilizes a tool called "Discovery" to find computing resources, which ServiceNow calls "configuration items" (CIs). Discovery automatically populates the Configuration Management Database (CMDB), which stores information about all of your CIs. However, ServiceNow can't automatically discover IBM i or IBM z environments. They're invisible, so IT professionals don't know how they're performing.
The Solution: Ironstream for ServiceNow
That's where Ironstream for ServiceNow comes in. Ironstream for ServiceNow makes IBM i and IBM z environments observable, so IT professionals gain a better perspective of what's going on with their CIs.
Syncsort Ironstream seamlessly integrates into ServiceNow Discovery and automatically finds IBM i and IBM z environments. This automation is a valuable aspect of Ironstream for ServiceNow because manually searching and identifying those environments is a time-consuming and error-ridden process. Automation, on the other hand, ensures that the information you gather is accurate, and it's also less expensive than bringing in an IBM expert do perform the task by hand.
In addition, Ironstream for ServiceNow maps dependencies and assigns relationships automatically. IT professionals can see exactly how IBM i or IBM z environments connect to other systems, what kind of information they share, and how often. As a result, Ironstream for ServiceNow lets IT professionals analyze their entire IT system so they can improve the service that end-users receive.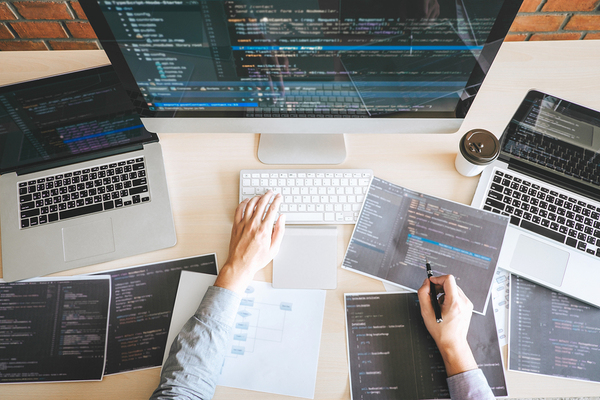 Moreover, Ironstream for ServiceNow provides a single view of your entire infrastructure. There's no more guessing about what could be happening with invisible environments, or worrying that you don't know that a crisis is brewing and you're powerless to stop it. A uniform view of all of your CIs helps you make smarter decisions – you know where to best allocate your resources instead of operating on assumptions that aren't backed up by fact.
Another benefit of Ironstream for ServiceNow is that it has a small footprint – it consumes very few system resources. There's also flexibility in the discovery process, giving you the capability to set specific auto-discovery parameters based on your business needs. Ironstream for ServiceNow discovers a wide variety of IBM i and IBM z assets, so you don't miss anything.
Ironstream for ServiceNow gives you the most out of your investment in a market-leading ITSM solution. Learn out more about Ironstream for ServiceNow and watch our on-demand webcast!